Isabella (Bella) Blaney — Philanthropist and Suffragist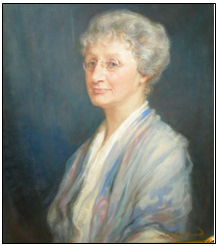 Bella Blaney was very active in women's rights-including being one of two women to represent California at the national convention for the Progressive Party in 1911 and later in 1912 at the Republican Party.

Bella Blaney was born in 1854 in Chicago, Illinois to Elizabeth Caroline Smith and John M. Williams. She graduated from Ogontz School for Young Ladies (later became the University of Pennsylvania) and did post graduate work at Northwestern University in 1872.

After graduation in 1872, she went to Italy with her parents and brother. While there, many artists asked to paint or sculpt her classical beauty. Her parents had a sculptor commission her face to go on her father's building on State Street-the prestigious Charles A Stevens & Brothers department store building. The department store was noted for its quality merchandise with the top 11 stories leased to other retailers.

Williams married Charles Blaney, on September 8, 1877 in Evanston Illinois. Due to Blaney's poor health they decided to leave the cold weather of Illinois and move to sunny California in 1882. They first lived in San Francisco and later in Saratoga where they called their home "Oak Knoll."

On September 6, 1883, a daughter, Clarissa Butler Blaney was born and named after Charles Blaney's mother. Clarissa died on July 30, 1901, at the age of 17, after suffering five weeks from typhoid fever. The Blaneys donated money to build a wing for contagious diseases at O'Connor Hospital in San Jose in her memory.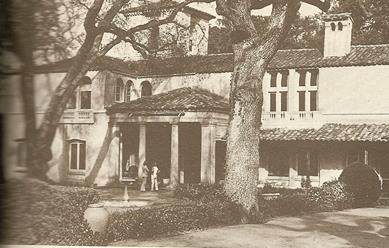 In 1906, the Blaney's purchased land from their cousin, Jennie Farwell, to build a new home in Saratoga. Well-known architect Willis Polk designed the 20-room mansion known as Rancho Bella Vista (Spanish for beautiful view). Landscape architect Bruce Porter designed one of the gardens; Bella Blaney, the other. The home still stands in Saratoga.
The Blaney's spent the summer in Saratoga and the winter in their home in Pasadena, CA.
She was a member of the San Jose and Palo Alto American Association of University Women (AAUW); the Astronomical Society of Pacific; and the Pasadena Music and Art Association. She also belonged to the Outdoor Art League of San Francisco. She belonged to the Santa Clara County rose society and frequently donated her roses for public events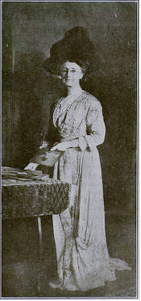 During this period of time, she belonged to the Century Club of San Francisco, housed in a Julia Morgan building, and the first woman's club in San Francisco. The Friday Morning Club of Los Angeles, another woman's club that focused on public kindergartens; protecting abused children; and promoted a travelling library. She also belonged to the Town and Country Club of San Francisco, an exclusive club enabling women to spend the night in the city.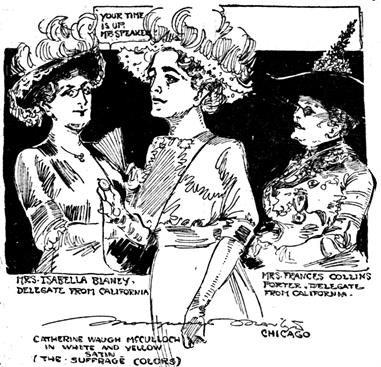 She was very interested in politics and women's rights. In 1910 she was chair and financed the Women's Club Franchise League; Executive Board of the California Equal Suffrage Association; Vice President of the Women's Roosevelt League in San Francisco and on the Executive Committee of the Progressive Republican League.
Blaney was vice president of the Club Women's Franchise League. In 1910 she supervised and financed a house-to-house canvas of the Santa Clara Valley on behalf of women's suffrage in a California special election on October 10, 1911. She was on the executive board of the California Equal Suffrage Association.
In November 1911, in what was called a "striking feature" she was chosen a vice president of the La Follette League of California, an honor given for the "new voter" (California women). Her name was greeted with "loud cheering" at the founding convention. She was the "first woman in California to be given a post in a partisan political organization."
She switched to Theodore Roosevelt after Senator Robert M. La Follette quit the presidential race.
Blaney and Florence Collins Porter were reported to have been the first women to be delegates to any national political convention, but that distinction actually went to Therese A. Jenkins, a Republican delegate in 1892. Asked how it felt to be the "first of their sex to cast votes in a national convention," she replied, "I just voted, that's all, and did not let myself be carried away by emotion at the time." She and the other Californians were bound by state law to vote for the winner of the primary election, Theodore Roosevelt. After Roosevelt lost the nomination to William Howard Taft, Blaney became a delegate to the Progressive Party convention that nominated Roosevelt on a separate ticket. She and three other women were elected by women delegates to serve on the party's National Committee.
As a member of the Progressive Party, Blaney supported John M. Eshleman in his successful 1914 bid for California lieutenant governor. Bella Blaney died in 1933 and is buried with her husband in Madronia cemetery.
Isabella Blaney, Mary Willmarth and Jane Addams.